Welcome to
Tamarac PortfolioCenter Support
Client Presentations
Reporting designed for the way you work best with clients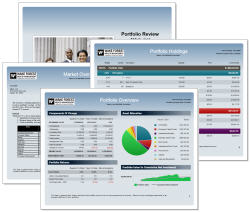 The days of presenting bland, data-heavy, black-and-white reports to clients are over. With the powerful reporting capabilities built into PortfolioCenter®, you can create accurate, high-quality reporting packages that can be customized to:
Engage clients in a meaningful, effective way
Offer flexibility in how you present important data
Elevate your firm's brand
Underscore the value you provide to clients
You can choose from a range of ready-to-use themes and page templates and adapt them to your specific needs, or build your own pages from scratch with easy drag-and-drop functionality. With either option, you can tailor the layout of your reports to the way you communicate with your clients—making it easier for them to understand their investments and reinforcing the value of your firm.
The wide range of design and data options that Presentation Studio offers includes the ability to customize pages, columns, and date ranges; change your layout; or select specific data points to feature prominently in your reports.

Get the most from Presentation Studio
Instructional documents
—Get step-by-step instructions and detailed information on a wide range of topics related to using Client Presentations.